Traveler Services
Palazzo di P Luxury Villa Zakynthos Greece
Transfers

Private VIP Transfers
Palazzo Team cooperates only with pioneers of luxury transportation service. Our partner will design your unique transfer solutions to cover every need in the most exclusive and safe way . Our partners strive on discretion and client confidentiality, with high trained staff and highest attention for a VIP touch. All you have to do is relax and unwind.
A private airport transfer service is both fast and reliable. Our affiliate will track your flight to arrive at the exact time -avoiding your wait- and drive you to your destination without hassle.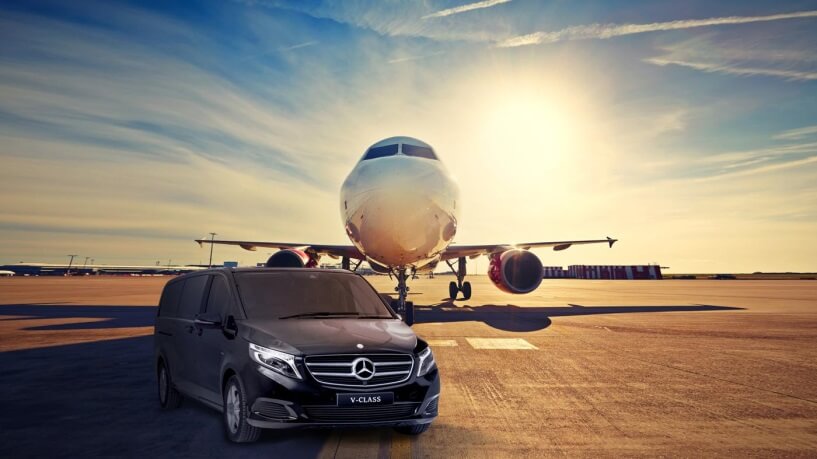 If you arrive in Zakynthos by a yacht, our partners' Chauffeur service will take care of your mobility.
Move without stress - Car & driver disposal on hourly/daily basis is available.
Contact Palazzo Di P, to arrange your luxury private transfer

Public Transport
A bus service connects Zakynthos Town with the majority of resorts. Tickets are also sold on board and buses are running throughout the day.
Address: Ktel Zakynthoy, Zakynthos Town.
Email: info@ktel-zakynthos.gr
Phone: +30 2695 022255
Website: ktel-zakynthos.gr

Taxi
There is an association of taxi's in Zakynthos. All you have to do is to give them a call and book your taxi for any destination.
If you are at the Villa, you just say that you need a taxi at Palazzo Di P Villa and your destination. The taxi service will revert with the time that the taxi will be at the Villa's entrance. You may also book your taxi for next day.
We always suggest booking your taxi upfront.
All taxi drivers speak English and maximum number of passengers is 4. However due to COVID19 measures the number of passengers fluctuates according to the specifications announced by the Ministry of Health.
Taxis can be booked for a whole day for a tour of the island.
Book you Taxi - Call at:
+30 26950 48400

Car Rental
Car rental is an option that the majority of travelers choose during their stay at the island. There are many Car Rental companies in Zakynthos where you can find the desired car type, insurance packages and rates.
Scooters and motorcycles are also available, but inexperienced riders must be really cautious and take great care.
Palazzo Di P cooperates with car rental companies, which were highly recommended from our guests. These include Smart Rental Car Hire in Agios Sostis and Enterprise, Airport Road.
Palazzo Di P guests maybe entitled to a discount from the aforementioned car rental companies due to our common interest for complete guest satisfaction.
Contact Palazzo Di P, to arrange your car rental!
Tours
The Palazzo Team and its affiliate partners have designed a number of Tour proposals for those travelers that wish to explore all of the beauties and the hidden "secret" spots of the island.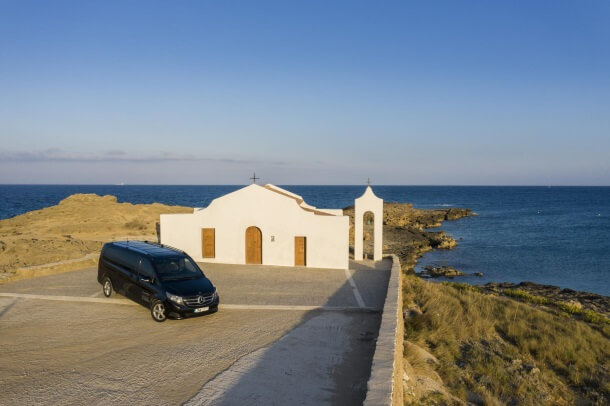 The below proposals have been designed for a private tour service with our affiliate VIP transfer & Yacht partners however for those that prefer to travel on their own, these guides are considered as a valuable material for their trip.

Road Tours
TOUR 1
DEPARTURE
English speaking chauffeur will pick you up from Palazzo Di P.
CRUISE TO SHIPWRECK & BLUE CAVES
Sail to one of the most beautiful beaches in the world, the Shipwreck beach. Laze on deck as you glide into the Blue Caves. Jump off to swim in the crystal blue water.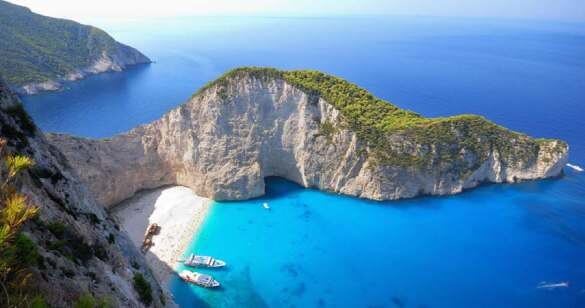 PHOTO STOP AT THE PANORAMIC PLATFORM
Pause to take in the majestic view of the Shipwreck bay from above.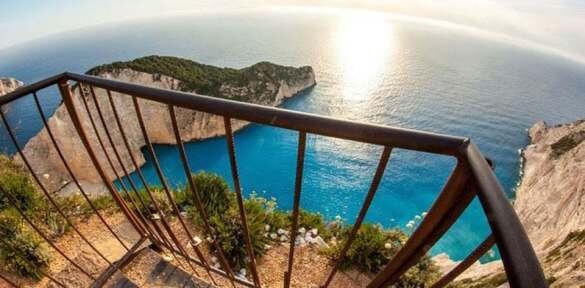 MONASTERY OF ANAFONITRIA
A Byzantine monument with interesting architecture. In this monastery, Agios Dionysios, the patron saint of Zakynthos, became a monk and lived the last years of his life in the 16th century.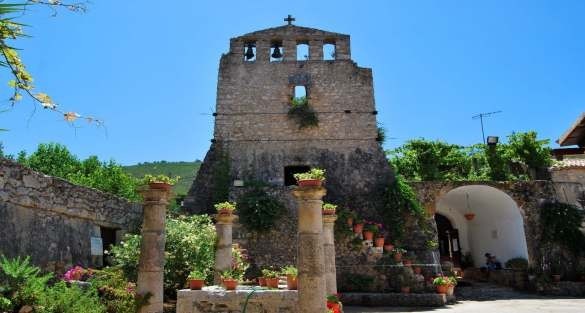 VISIT THE LOCAL MARKET
Meet the locals and taste Zakynthian products at the local market.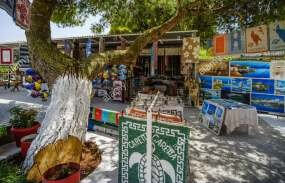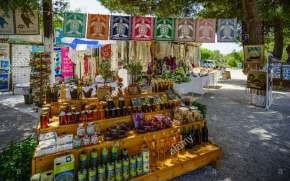 RELAX AND HAVE LUNCH FROM A GREAT VIEWPOINT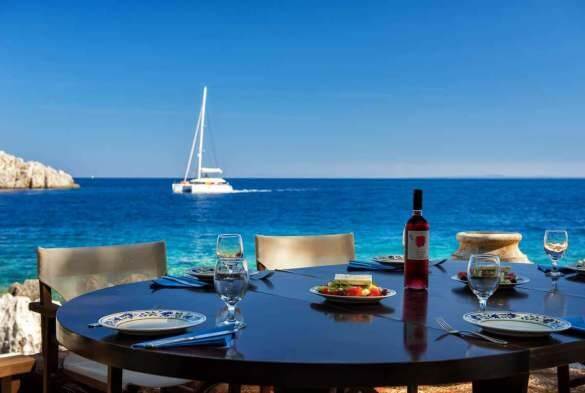 Return to Palazzo Di P!
Notes:
---
The 8 hours private tour includes the 3 hour cruise to Shipwreck and Blue Caves. Boat capacity, 25 passengers.
The 5 hours private tour does not include the 3 hour cruise to Shipwreck and Blue Caves.
TOUR 2
DEPARTURE
English speaking chauffeur will pick you up from Palazzo Di P.
VISIT ARISTEON OLIVE OIL FACTORY-MUSEUM
A step-by-step guided tour through the process of the olive oil production from the 18th century century wooden olive press to today's modern two phase centrifuge separator. You can try olive oil with homemade bread and local olives.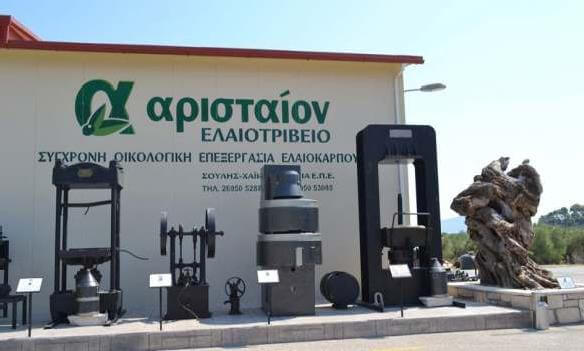 DEPART FOR KERI LAKE
A magnificent drive to Keri where you will sail to Marathonisi island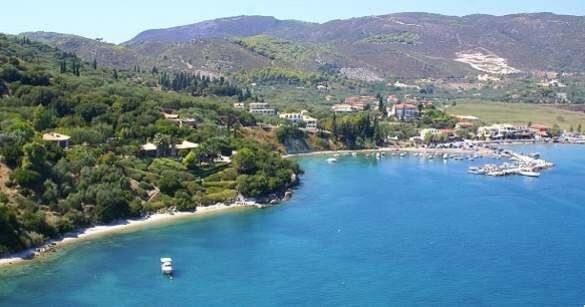 SKIPPERED CRUISING TO MARATHONISI - KERI CAVES - MYZITHRES
Experience a stunning boat tour to Marathonisi Island. Discover a more authentic side to Zakynthos away from the tourist crowd, on this cruise of hidden harbours and secret beaches. Explore the Keri caves, the famous rocks «Myzithres» (the rock formations which emerge from the sea), and get the chance to photograph the Caretta Caretta Turtles.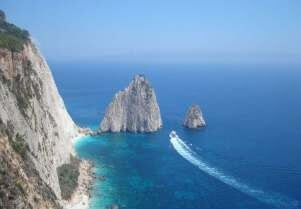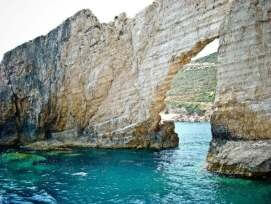 RELAX AND HAVE LUNCH FROM A GREAT VIEWPOINT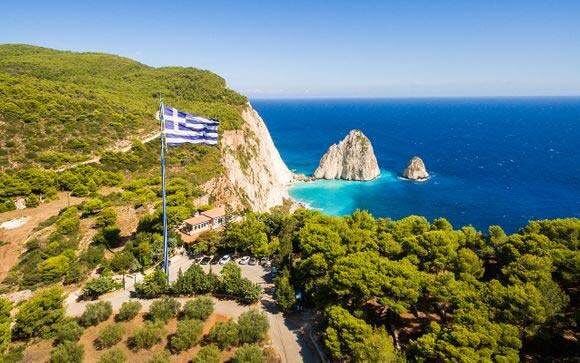 A STROLL IN THE PICTURESQUE VILLAGE OF KERI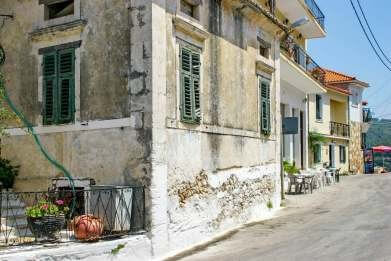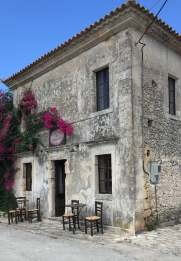 Return to Palazzo Di P !
Notes:
---
The 8 hours private tour includes the 3 hour private cruise (skiperred boat charter-private) to Keri Caves - Marathonisi - Mizithres Two boat types available: 6 meters long for 1-7 passengers
9,54m long for 1-12 passengers
The 5 hours private tour does not include the 3 hour cruise to Keri Caves - Marathonisi - Mizithres
TOUR 3
DEPARTURE
English speaking chauffeur will pick you up from Palazzo Di P.
BOCHALI
A lovely and small village at the top of the promontory rising at the back of the city of Zakynthos. It is really worth visiting especially at night when the landscape of the enlighten city and the harbour bay are really beautiful. In spite of the small dimensions of the village there are different restaurants offering a romantic dinner under the stars.
Bochali is worth visiting even by day to take pictures of the small church of Zoodohos Pigi with its Byzantine icons.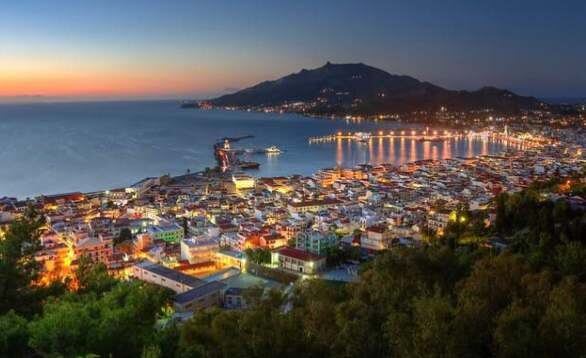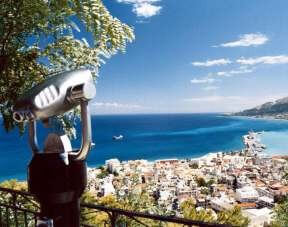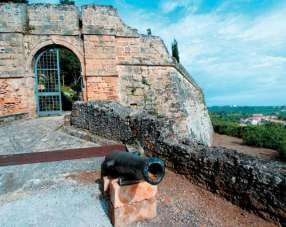 ZANTE TOWN
A scenic city that has its own local flare. There are two big squares (Solomos square and Saint Marcos square) with numerous restaurants, a few pedestrian only streets and a beautiful seafront promenade that faces a natural harbour . There are a couple of large open plazas and plenty of shops and markets.

SAINT DIONYSSIOS CHURCH
The church hosts the relics of the patron Saint of Zakynthos, and apart from a source of force for the locals, it is also considered a great attraction for the visitors.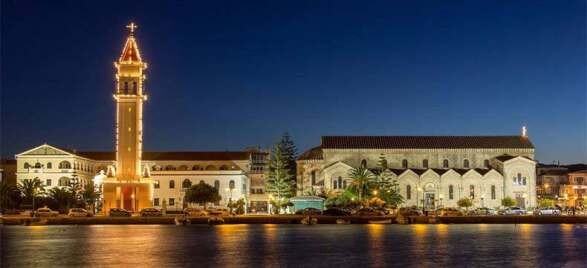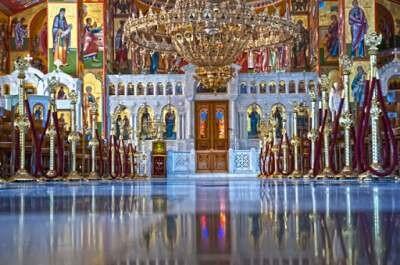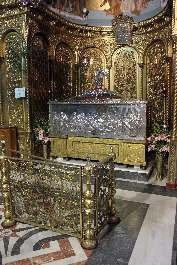 RETURN TO Palazzo Di P
VEHICLE TYPES
MERCEDES BENZ V-CLASS (1-7 passengers)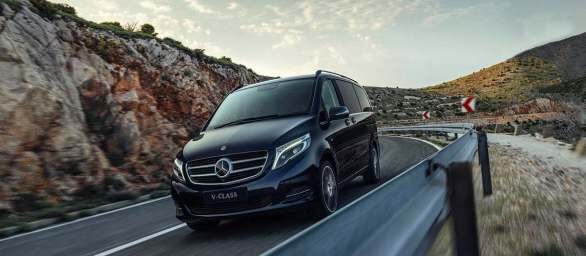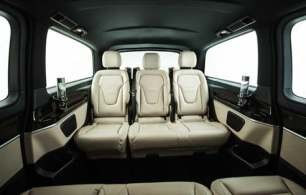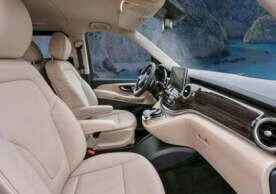 A luxury car with seven comfortable leather seats, two-zone climate control with a controller in the passenger compartment, automatic sliding side doors right and left, USB charging ports and a cooler. With its compelling design and luxurious equipment, it is a vehicle which offers comfort, impeccable safety, versatility and strength.
These luxury cars come with automatic transmission, black rear side windows, all safety standards and multimedia systems that allow you to connect your smartphone and listen to your music through the vehicle's speakers wirelessly.
* Amenities included in each car: Multi chargers for phones. Wifi on demand.
VIP Transfer COVID-19 MEASURES
The health and welfare of passengers and team members is #1 priority. Our affiliate partner is in compliance with all of the guidelines provided by the WHO (World Health Organization) and the EODY (National Organization of Public Health In Greece). Our partner is focused in ensuring that they will meet your needs while keeping everyone safe. All of their vehicles are being thoroughly sanitised by professionals before each transfer.The fleet is equipped with antiseptic hand wipes and antiseptic gel for all passengers.
---
Complimentary cold drinks available in the vehicles Premium bottled water: S.Pellegrino, Evian - Sparkling wine: Moscato d'asti)
---
MERCEDES BENZ SPRINTER (1-12 passengers)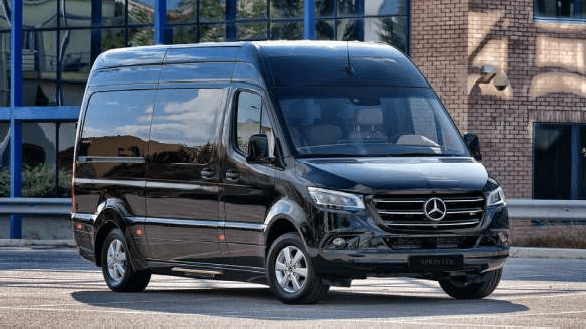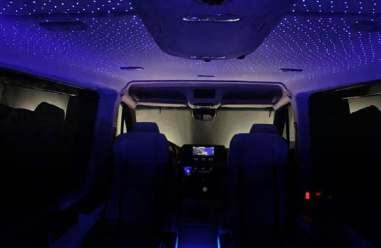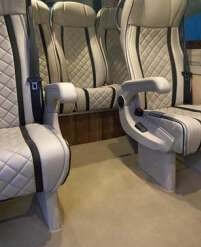 VIP Edition boasts a luxurious interior with deluxe leather seating and state-of-the-art amenities. The light beige interior features comfortable seating, fiber optic starfield ceiling, usb ports in every seat and wood-like flooring.
A luxury car with automatic sliding side door and a cooler. The cars come with automatic transmission, black rear side windows, all safety standards and multimedia systems that allow you to connect your smart phone and listen to your music through the vehicle's speakers wirelessly.
Yacht Tours
Zakynthos is a paradise on the face of the earth with many kilometers of coast and a number of small islands around it make the ideal destination for summer season. This advantage is strengthened by favourable conditions for sea traveling since Ionian sea is considered safe, as distances between coasts are small while conditions related to wind strength, ambient and sea temperatures are equally favourable.
Contact Palazzo Di P, to arrange your Yacht Tour!
Make your stay unforgettable with a Yacht Tour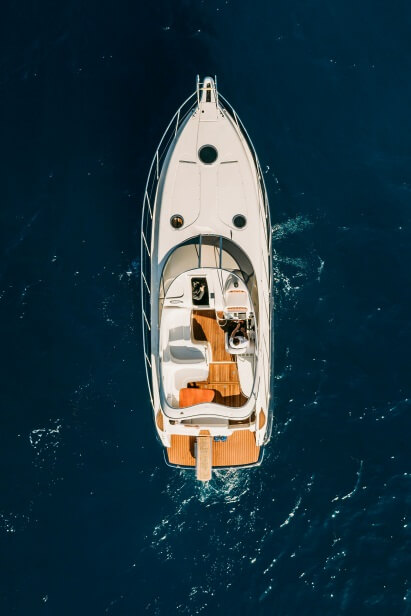 Visit the most popular and secret locations as well.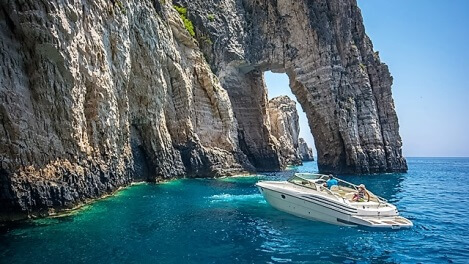 Approach secluded coves and beaches of infinite beauty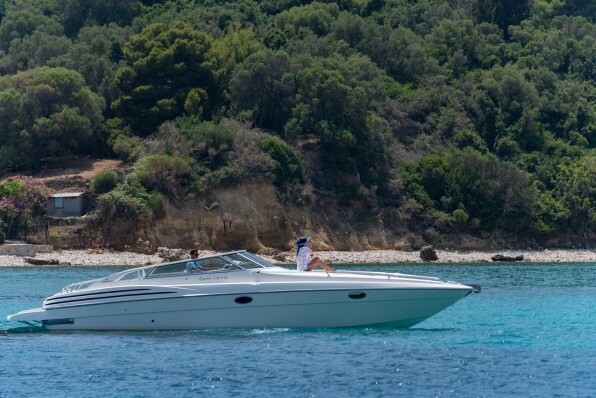 Book a Yacht tour :
Private cruises in the Ionian Islands with luxury yachts.
Plan your own unique daily routes to Zakynthos, Kefalonia, Ithaki, Lefkada
Pick up from anywhere near your location that is accessible by sea.
Pick up & drop off availability by van
Luxury cabins with all facilities you may need during your excursion
Professional Crew ready to serve you
Safety equipment & GPS with strict safety measures
Professional Crew ready to serve you
Indoor and outdoor lounges, sunbathing mattresses on the bow and stern
High Speed Engines
Tender Boat
For any special occasion you can imagine
Proposed Yacht Tour Destinations :
• North Zakynthos | Blue Caves and Shipwreck
Recommended Stops: Shipwreck beach and surrounded beach spots - Blue Caves - Makris Yialos - Xigia Beach
Among the most popular spots in Zakynthos are certainly the Shipwreck (Navagio) Beach and the Blue Caves. These spots on the island are famous all over the world for their natural beauty.
Your private tour will depart around 08:00 – 10:00 am from Zakynthos port sailing across the coastline of Tsilivi and Alykes. First stop will be the Shipwreck beach at its magnificent crystal clear waters and the white sand. You will also visit private beaches next to the Shipwreck to relax and enjoy swimming privately. Consequently, you will sail towards the Blue Caves, where you will enjoy a swim inside the caves. The cruise will offer you the opportunity to approach places inaccessible by vehicle. A stop for lunch in Nobelos Bio Restaurant is recommended before the last stop which will be the most famous beach due to its Sulphur content, Xigia Beach.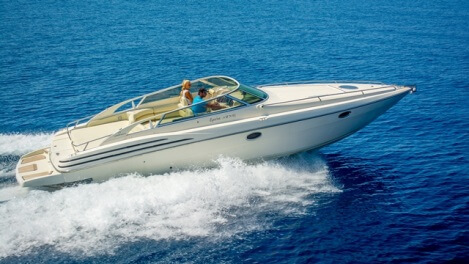 • Explore South Zakynthos | Marathonisi - Turtles - Keri Caves
Recommended Stops: Vassilikos beaches - Marathonisi Island – Turtle Spotting - Keri caves - Private Beaches.
The south coast of the island completes the coastline of Zakynthos with impressive spots such as the caves of Keri and bays in the western side. Sailing across the coastline of Argassi and Vassilikos, you will have the opportunity to swim in a private beach accessible only by boat. Consequently your sail will continue towards the amasing Marathonisi Island for exploring its caves and a swim to its calm crystal clear waters. During this sail you will probably be able to see the famous turtle "Caretta – Caretta" and take photos or swim near this amazing creature. Your sail will continue towards the Keri Caves and the breathtaking "Kamara" cave where you can dive in and explore the unspoiled beauty of the caves. Stops are also planned at Porto Roma where you can have a delicious Greek dish and fresh fish from a tavern on the beach, at the most famous beaches of Vasilikos and if you are interested for watersports a stop can also be arranged at St.Nicholas.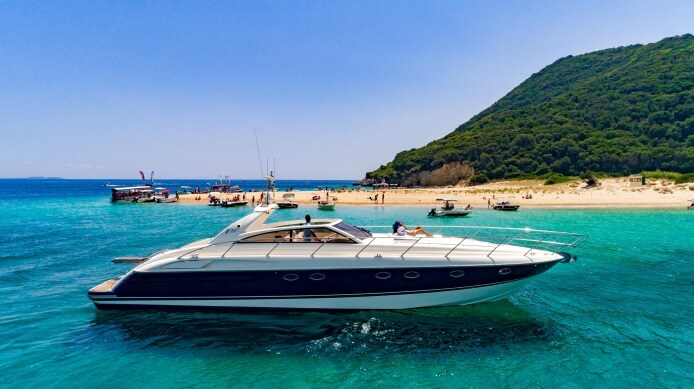 For both destinations the duration is estimated at 7 hours, departing at 08:00 am , 09:00am or 10:00am the latest from Zakynthos Port.
Towels, snorkelling masks, water couch, jet ski, ringo are available at the yachts.
Note that a price offer will include all fees for Skipper, Hostess, Fuel, wine or beers, refreshments, light snacks, water and fresh fruits.

• Another option is a Sun Set Cruise:
Recommended Stops: Vassilikos beaches - Marathonisi Island – Cameo Island Private Beaches - Keri caves – Sun Set at Mizithres
For a sunset cruise, you will head at the south part of the island towardst Cape Gerakas. First stop will be the Island of Marathonisi, where you can enjoy a swim in the crystal clear blue waters. Leaving Marathonisi Island the next stop will be at the secluded beach of Agrilaki where you will be able to enjoy your champagne at the most magical time of the day. Myzithres is the next stop, where you will admire two large rocks protruding from the sea and the sun will be setting in between them.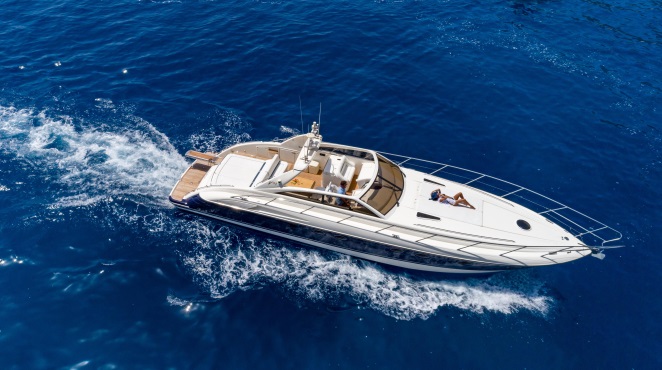 Departure from Zakynthos Port will have to be at 17:30 and return will be at 21.30. Note that the starting time of the cruise varies according to the time of sunset for each day.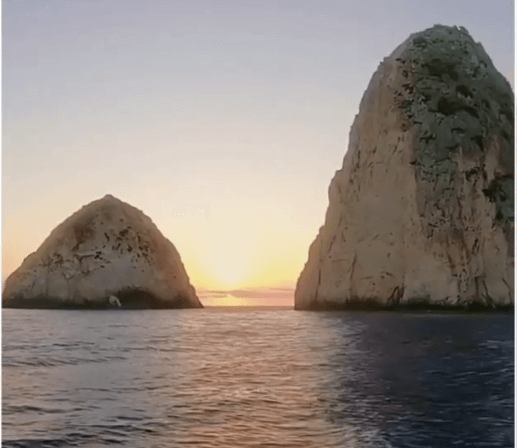 Summaring don't miss the following spots!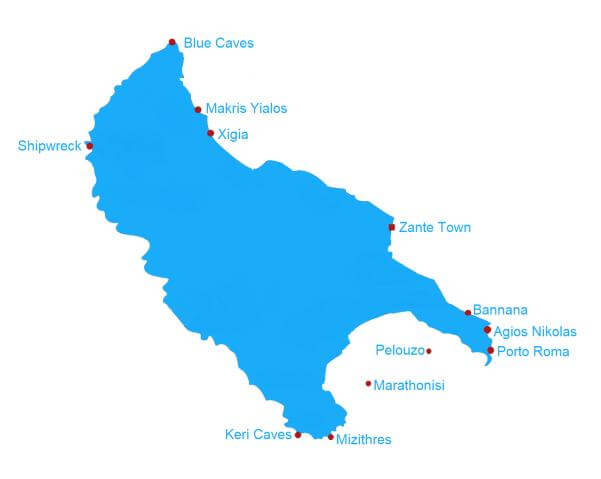 Contact Palazzo Di P, to arrange your Yacht Tour!
Private Chef
In the comfort of Palazzo Di P grounds, guests' are introduced to a unique experience of fine dining and to the roots of the culinary culture of Zakynthos Island. Palazzo Team cooperates with private chef's, highly reviewed for their services, and specialized in certain cuisines.
Designed to meet guests' dietary requirements and culinary desires, private chefs are highly skilled and experienced to offer catered themed dinners, with ingredients of the highest quality sourced by local producers.
It's a unique experience, ideal for special occasions, lunches with friends, family dinners or a great gift for your beloved ones.
Guests choose the menu
Chef will buy the ingredients, cook and serve at Palazzo | Chef's assistants will clean up

Tailor-made Menus

For your individual gastronomic tastes and dietary preferences, your private chef will define your requirements and will adjust to match preferences of all members of the group, ensuring that all will enjoy an unforgettable experience.

Theme Dinners & BBQ Event

Private Chef's will recommend ideas for a perfect lavish theme dinner or a BBQ event for your night, fitted to your every need.

Cooking Lessons

Using local bio-products of highest quality, our guests will follow the instructions of the Private Chef and will receive the unparalleled attention they require towards their journey on discovering about different food cultures and cooking techniques, used in Greece and the Island of Zakynthos over the centuries.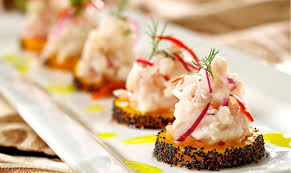 Contact Palazzo Di P, to arrange a Private Chef event!
Wellness
Zakynthos Wellness centers
This guide includes some only of the available Wellness Centres in Zakynthos. We have picked the ones that were strongly recommended by our guests.
Out to Explore Location
Out to Explore offers Zen Yoga classes, courses and holidays for all levels including absolute beginners. Travelers select Zen Yoga Studio for a class while on holiday or for an out to explore adventure in breath taking locations of the island.
Find balance and recharge your inner battery in the tranquil sanctuary of the Zen Yoga Studio!
Website : www.outtoexplore.co.uk
Tel : +306945151705
---
Zante Fitness – Services & Retreats by Gravity Location
For travelers that are interested for a unique physical & spiritual experience, Zante Retreats is specialized to detox your body from toxins and negative thoughts, discover your balance to relax and introduce you to new healthy habits. Join an indoor & outdoor retreat activity and heal your body and soul.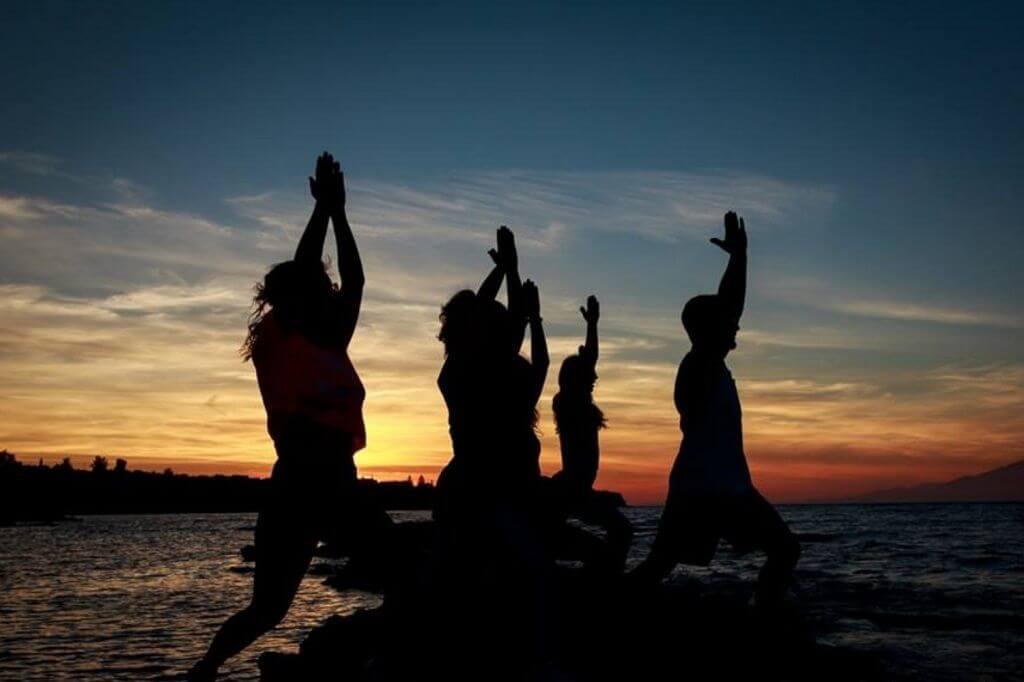 Visitors can choose from different programs, such as the 8Days Theta Healing® DΝΑ Basic & Advanced Training, and Yoga Retreat, the 6 Days Fitness Retreat with Yoga, and the 6 Days Detox Beach Yoga, Aerial Yoga & SUP Yoga Holiday in Zakynthos.
Website : http://zantefitnessretreats.com
Tel : +306986971508
---
Base coat, Location
Base coat in Zakynthos is a nail salon, offering various beauty services. Relax and trust yourself in the hands of Base coat experts for Manicure, Pedicure, Nail Extensions (Gel & Acrylic), Shellac, or even Eyelash Extensions.
Tel : +302695044368
---
Relax Spa & Beauty, Location
Relax spa & beauty is a salon of relaxation and pampering which offers a variety of beauty services, tailored to your individual needs. Services include : makeup application for special occasions, nail treatments, massage, waxing services, eyelash extensions, face and body treatments, eyebrows tattoo and airbrush tanning.
An amasing fresh feeling during your vacation in Zakynthos!
Tel: +302695043175
---
Mirror Mirror, Location
Coiffure Mirror Mirror Hairdressing and Barber is located at Tsilivi resort. This hair salon specializes in female hairstyles and haircuts with all up-to-date fashion trends and styles.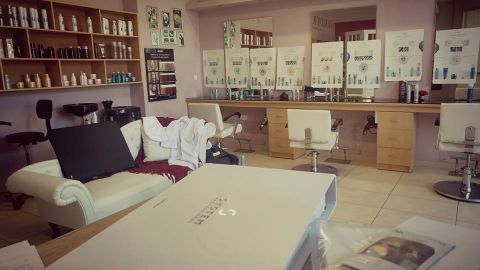 Tel: +302695301200
---
G Coiffure, Location
G Coiffure operates since 2000. No matter what your personal style is, the salon's professionals skillfully integrate the latest trends and timeless classics to deliver your look with precision. G coiffure also offers complete wedding services, including hair up-styling, makeup and nails.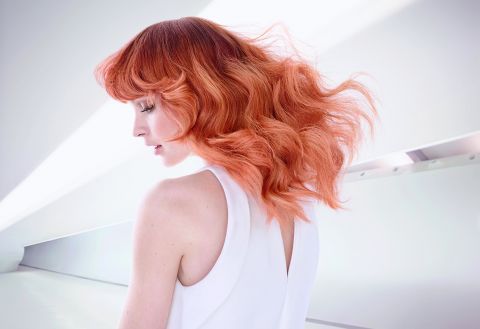 Tel: +302695042581
Shopping
Shopping in Zakynthos
Most shops are gathered in Zakynthos town paved streets around Solomos Square and San Marco Square. Main shopping street is Alexandrou Roma which features a significant number of clothes, shoes, jewelery and souvenir stores. Here you will also find bakeries, print & photo shops, pharmacies and mini markets. However, there are many shops that can also be found in surrounding streets such as Tertseti Street ,Foskolou street etc.
Supermarkets
Zakynthos is benefited from the numerous supermarkets which are spread across the island. Closer to Palazzo Di P, guests will be able to find 2 of the largest supermarkets in Zakynthos. AB Supermarket and the LIDL. Both supermarkets are located on the main road out of town to Keri, and only 5 minutes drive from Palazzo Di P.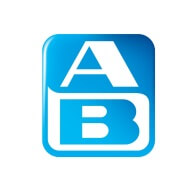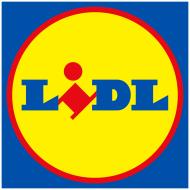 For late shopping, guests staying at Palazzo Di P are only 8 min drive from Laganas main road where the Express Market is located and is open until late.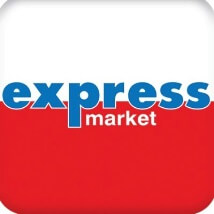 Location of Bonafe Local Market
Finally, a small local shop, called BONAFE, just 2-3min drive from Palazzo Di P, is open until midnight, Saturdays, Sundays and Bank Holidays, where guests can buy their necessary and urgent supplies.
---
Gift Shops
Anamnesia
Anamnesia is a special store, which features a selection of Greek products from notable designers who are inspired from Greek traditional elements. It is guaranteed that here you will find the products that will keep your vacations in Greece memorable through an authentic and impressive way.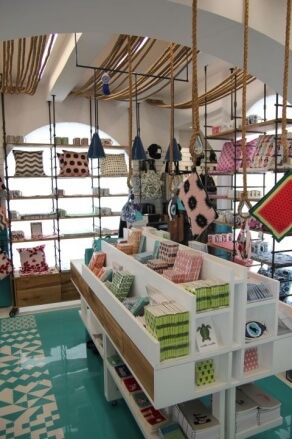 Tel : +302695045999
Blue
Blue designs and creates handmade jewelery with semi-precious stones, lava and pearls tied in leather with silver plates and sterling silver items, offering perfect aesthetic.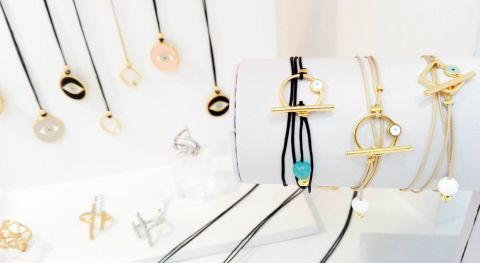 Razi Aroma
Zakynthos has a long lasting tradition on perfumes due to its rich flora consisting of aromatic herbs and flowers. Razi Aroma has been creating perfumes since 1963 which can be found all around the island in selected tourist shops.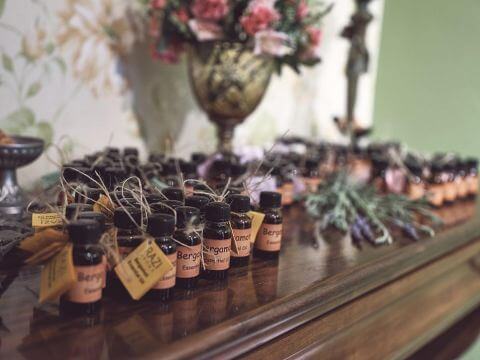 Tel : +302695042477
Spinspot Ceramics & Pottery
This shop creates handcrafted either on a traditional side wheel or entirely by hand ceramic creations, inspired by the nature of Zakynthos island. These creations are handpainted or decorated with stoneware matt glazes and are food safe and weather resistant.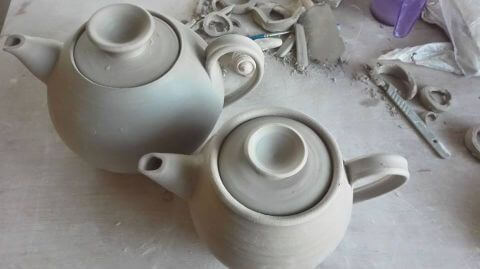 Adamieion Ceramic Art Studio
Adamieion Ceramic Art Studio through is local artist, Ms Dionysia Avouri, creates authentic functional and decorative ceramics inspired from nature, tradition and Zakynthos island.
Guests are welcome to visit the working area of the artist and get to know the process of making ceramics, visit the exhibition area and the shop to buy dinnerware, sculptures, mugs, dolls, decorating ceramics and much more. Here, the artist Dionysia provides lessons to small groups of adults and kids who are interested to make their own ceramics. For a private lesson you need to book a time slot and let this amasing experience begin!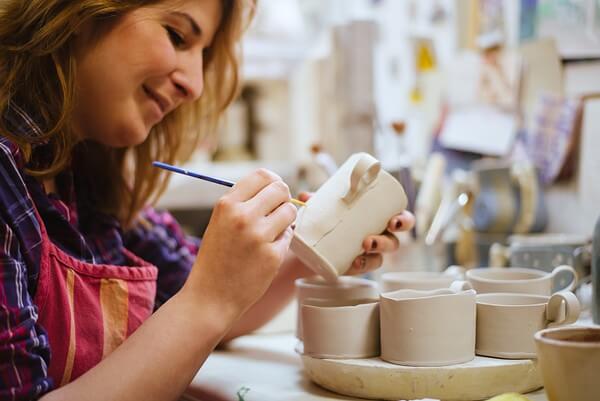 Location : Tsilivi Marineika, Zakynthos
Kinnabari (Cinnabar)
Local artist, Ms Dionysia Biskini has created this small shop in Zakynthos Town. Everything exhibited in this shop, from works of art to handmade souvenirs is created by Dionysia. All materials used comes from the beaches of Zakynthos such as pebbles, metal, drift wood and other materials found are magically transformed in unique pieces of art.
Medical Care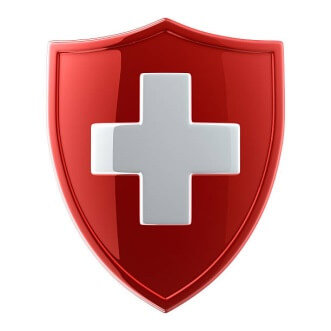 Zakynthos has a health system which includes from first aid service and medical care at the General Hospital of Zakynthos to a range of private facility medical services and doctor's office across the island.
Medical Care

General Hospital of Zakynthos – Public Facility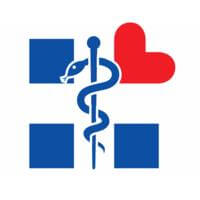 The General Hospital is located at Gaitani area, few kilometers away from Zakynthos town.
Location: Zakynthos Hospital
Tel : +302695042514
---

One Day Care Clinic Galenus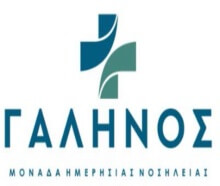 One Day Care Clinic close to Palazzo Di P
Location: Ampelokipoi Zakynthos
Email : info@clinicgalenus.gr
Web : http://www.clinicgalenus.gr
Tel : +302695048000
---

IASSIS – Private Facility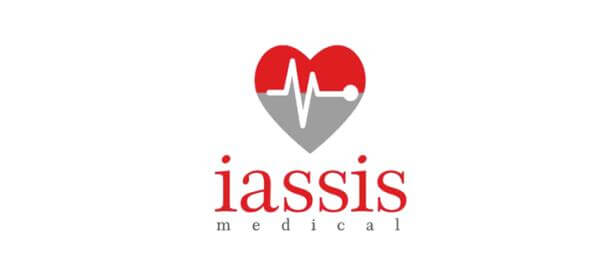 Email : medical@iassismedical.gr
Website : http://www.iassismedical.gr
Tel : +302695051095
Locations
Laganas Branch,
Kalamaki Branch,
Tsilivi Branch,
Argassi Branch,
Alykanas Branch,
Vasilikos
All specialisations, Emergency medicine, General medicine, General practicioner, Mental health, Obstestrics and gynaecology, Ophtalmology, Paediatrics and child health, Pathology, Psychiatry, Radiology, Surgery
---

Zante Medical Care – Private Facility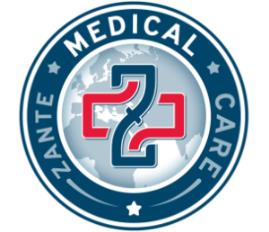 Email : info@zantemedcare.gr
Website : https://www.zantemedcare.gr/
Tel : +302695033111
Locations
Zakynthos Town Branch,
Argassi Branch,
Laganas Branch,
Kalamaki Branch,
Tsilivi Branch,
Alykanas Branch
All specialisations, Emergency medicine, General medicine, General practicioner, Obstestrics and gynaecology, Ophtalmology, Paediatrics and child health, Pathology, Psychiatry, Radiology, Other - see website
Pharmacy
Travelers will find numerous pharmacies in Zakynthos Town and at least one in the majority of resorts. The schedule of Zakynthos Pharmacies on Duty is sole responsibility of Pharmaceutical Association of Zakynthos.

Zakynthos Town

Rest of the Island (close to Palazzo Di P)
Flights, Ferries & Other information

Zakynthos International Airport
Zakynthos Airport (or "ZTH") is midway between Kalamaki and Laganas and it is located about 6 km from Palazzo Di P, or 8 min drive. Currently there is no public transport service from/to the airport, however a taxi stand is available outside the terminal. Travelers are encouraged to book beforehand their transfer from/to Airport.
Address: Zakynthos International Airport "Dionysios Solomos
Phone: +302695023970

Zakynthos Ports
Main port - Zakynthos Town, Location
From Zakynthos main prt, there are daily routes to Greece mainland. These routes are operated by Levante Ferries.

Timetables of ship routes may be subject to modifications depending on the needs of the passenger traffic. The journey takes approximately one hour and during summer season there are 5 ferries a day between Zakynthos and Killini-Peloponese Port. Travelers have the option to use a bus service (called "KTEL") if they desire to visit Patras, Athens or Thessaloniki.
North port – Agios Nikolaos Zakynthos, Location
The north port of Agios Nikolaos is located at the northeast coastline of Zakynthos, 30 kilometers from Zakynthos Town.
From this port, there are routes to Kefalonia Island. The cross is about 1 hour from the north of Zakynthos island to Pesada which is located in the south of Kefalonia island.

Other Information
Telephone
Country code: + 30
Island/Area code: 26950
Electricity
230 v 50 Hz two-pin (southern European)plug.
Population
40,000
Currency
Euro, €1 = 100 cents
Working/Opening hours (Businesses/ Governmental Services)
In summer, normally 8.00-12.00 and 16.00-20.00. Government offices and businesses: 8.00-12.00 and 16.00-20.00 Monday-Friday.
Emergency numbers
Police - General Emergencies : 100
Fire Department : 199 Fire Department
Ambulance - Health emergencies : 166
Port Authority : +302695028117, +302695028118