Palazzo Di P
Romiri Zakynthos Greece
Awarded by Tripadvisor in
Top 10 Rentals — High End
We have put our heart and soul into creating the ideal holiday home.
Our goal is to offer guests a warm and exciting stay in a villa like no other.
It gives us great joy to be awarded for two years in a row for our excellent work by receiving:
5th place in the world for 2017
6th place in the world for 2018
in the category of High End Villa by the world famous Tripadvisor website.
We promise to continue our efforts in order to become even better and keep offering our guests a holiday that will stay in their hearts forever…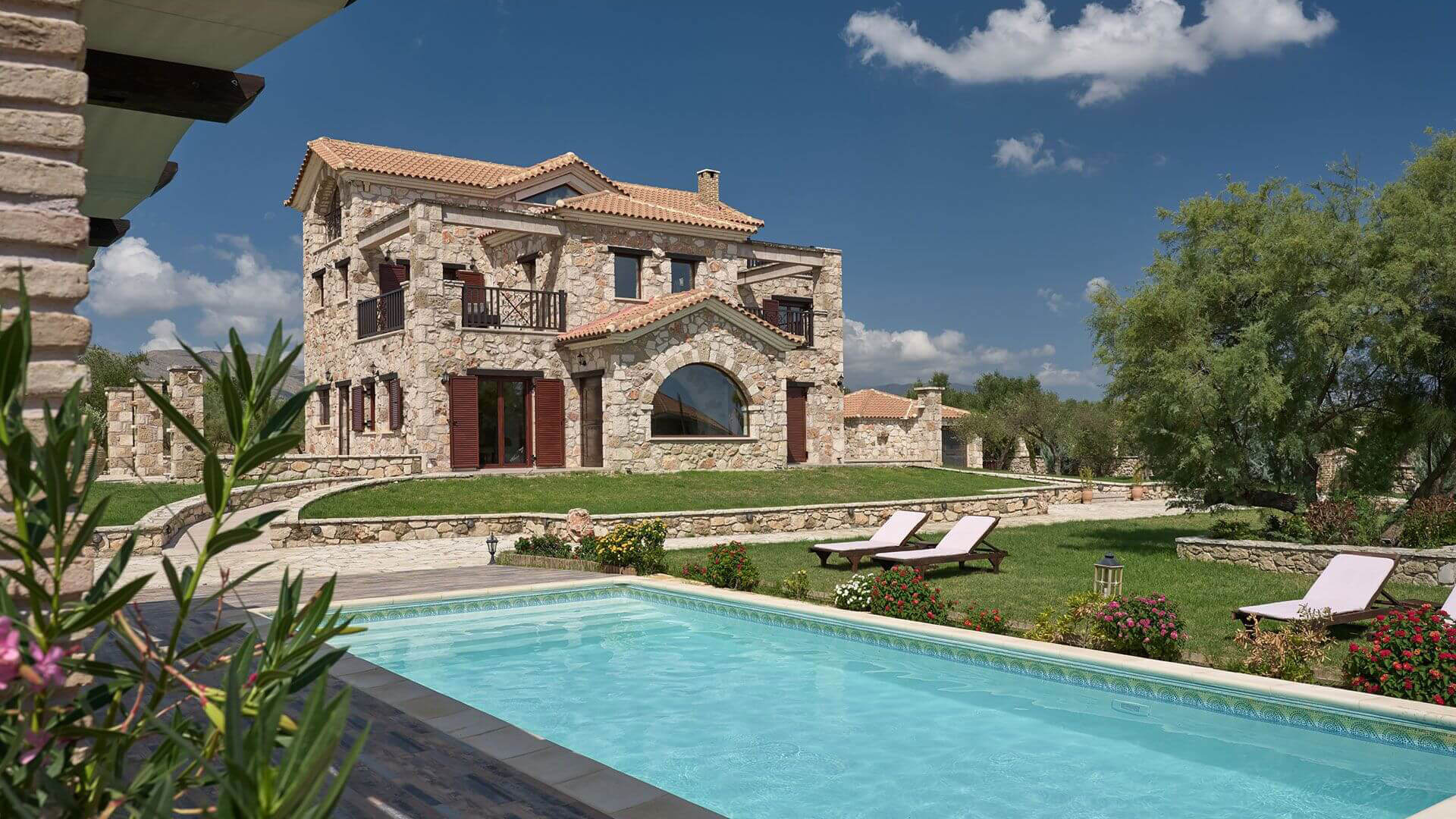 Your personal,
modern

day palace

Palazzo Di P is a unique styled villa situated on a private property measuring 3000 square meters, in the quiet village of Romiri. It is surrounded by olive trees, pine trees and vineyards. We invite you to relax in a stone palace with arches, high ceilings, marble and a combination of period and contemporary furniture. Facilities include a swimming pool, bbq, outdoor seating area, WiFi internet access and private parking. If you are looking for a laid back holiday where you will feel like a king, Palazzo di P will definitely overcome your expectations!

Experience the inside view of

Palazzo Di P
Take a look at the villa using your mouse & keyboard to move around the interior spaces.
View full screen

What our guests say about us
"An amazing, unique and welcoming stay in Zakynthos"
September 2017
This is such an impressive and unique accommodation to call home in Zakynthos. It's just like staying in your own castle! Maria was so welcoming, helpful and obliging as the host. We were treated to a home cooked hot apple pie on arrival then to a delicious traditional Greek meal of pastitsio served with Greek salad for our following nights dinner. Everything about this place is simply amazing, from the decor, to the scenery and to the pool and BBQ facilities set within the villa's expansive grounds. As a group of six Aussie travellers, we had the most wonderful and memorable stay here. Having our own van we were able to drive to local shopping facilities and to a variety of scenic locations like beautiful Shipwreck Beach. Very highly recommend this accommodation experience!!
"Your Own Castle"
September 2017
We were a group of 6 travelling around Greece for 4 weeks and staying at Palazzo Di P was a highlight for us. We had seen photos but it was jaw dropping beautiful to see it for the first time! Although we only had 2 nights, we settled in with the help of our friendly host, Maria, who showed us each room. There were drinks in the fridge and wine on the table.
Maria went above and beyond to ensure that our stay was memorable. She cooked us a delicious traditional Greek dinner the second night which was greatly appreciated by us as we didn't have to think about what to buy. We didn't even have to clean the dishes!
Thank you Nikos and Maria for a truly memorable experience!
"Fantastic villa"
August 2017
We stayed at palazzo di P in August and had a brilliant holiday. The villa itself is very beautiful with all the space and facilities you could possibly need. There are loads of seats and loungers around the pool, and a huge outdoor dining table. There's also a nice bbq area and pizza oven outside so you've got everything you could possibly want for luxurious outdoor holiday living. The owner Nikos and his family are incredibly friendly and welcoming and even cooked us a feast of Greek food one day. A maid comes every morning and cleans the whole property from top to bottom so you don't have to lift a finger. Faultless.
"Palazzo De. P"
September 2017
We're 8 people, ages 12 to 62, in zakintos for 4 nights. We cannot express our gratitude enough, of the villa - of this castle, located in the mountains. We have to start the hospitality and loving embrace of our hostess Maria, a home owner, travel guide and a booking agent all at ones.
THANK YOU .
"Best villa on zakynthos"
September 2017
By far the best villa I have ever stayed at! Great indoor interior, awesome outdoor and barbecue area, perfect location and a lot of space. Maria was the kindest and loveliest host! We had two perfect weeks on zakynthos.
"A luxurious place for relaxation and tranquility!!!"
September 2017
Luxurious from beginning to end. Superlative hospitality with peace and privacy. Immaculate, romantic, magical and run by the most accommodating family who tended to our every need. The architecture of the villa is from another era. Above and beyond expectations!!
"Perfect villa in a perfect location"
August 2017
Excellent get away from it all. The hosts Nikos and Maria are brilliant and nothing was too much trouble - couldn't have wished for more. Outside BBQ and pizza oven really made for some fantastic family nights which none of us will forget. Villa itself is well kept and has everything you would need. Would highly recommend this villa to everyone. Short car journeys take you to all the places you want to see - fantastic beaches, waterparks, restaurants. Didn't want to come home.