We are thinking of you and your safety
Palazzo diP Zakynthos
Palazzo Di P number one priority is the well-being, health and safety of our guests and team members. Management and the team are mainly focused that all indoor – outdoor areas are daily inspected and a regular risk assessment in relation to health and safety is performed and any issues are immediately addressed.
During check in, all guests are provided with the necessary information and guidelines for their safety.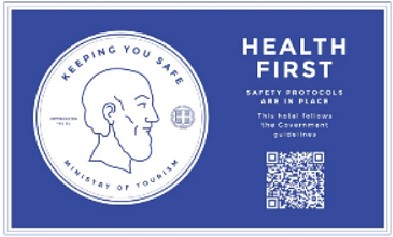 Palazzo Di P team follows covid-19 situation closely and implements covid-19 guidelines and health protocols to ensure our guests worry-free time during stays. New health and safety processes have altered the way that we were used to provide our services to our guests. Given that health and safety is number one priority at Palazzo Di P our guests are assured that we have implemented all actions against the spread of COV19 and can relax at the huge grounds of Palazzo Di P.
We are following the necessary procedures so that you can relax and enjoy:
Villa cleaning procedures
To promote guests' peace of mind, back-to-back stays will be avoided – the villa will remain empty for at least 48 hours after previous stay checkout. Moreover, the Villa will be ventilated for at least 24 hours before arrival.
A supply of personal protective equipment is made available to all guests during their stay at Palazzo, specifically : a) Anti-bacterial hand sanitizer, b) Anti-bacterial hand soap, c) Disposable disinfectant wipes, d) Paper towels and toilet paper, e) Masks and gloves
All keys are disinfected before handover.
During your stay, Palazzo will be cleaned thoroughly by the same team member who will be using disposable masks and gloves at all times during their presence at the villa
Cleaning activity is only performed when the entire group of guests is not present and especially in the Villa. If guests do not wish cleaning activity within the villa, we will be able to arrange new towels and linen in front of the villa.
Note: Different housekeeping arrangements can be made at guest request.
Disinfectant dispensers is provided indoors and outdoors
Specific equipment and products will be used by area (room, bathroom, kitchen etc.). For the cleaning of indoors, only certified products that ensure the highest cleaning standards are used at Palazzo Di P.
The cleaning & disinfectant process starts with bedroom and living room areas and then proceeds to kitchen and bathrooms.
The Villa will be ventilated thoroughly during and after the process.
All floors will be swept and mopped with approved disinfectant cleaners.
No shared objects of multiple use such as magazines, etc. will be available.
High-touch surfaces will be prioritized (Door handles/knobs, Controls and switches, all electronics and light fixtures, including remotes and thermostats, bathroom taps, toilet flush handles, toilet seats, faucets, cabinet pulls and handles, utensils, cutlery and crockery, furniture such as chairs, tables, and parts of the bed frames, kitchen countertops and appliances,
All air conditioning filters have undergone cleaning and maintenance procedures as per standard requirements.
Palazzo Di P outdoor areas
Daily disinfection of exposed surfaces in the outdoor such as dining table and chairs, sitting area, sunloungers.
Guests are kindly requested to keep a distance of a least 2 meters from each other unless they are travelling together
Entry to the Villa from persons not included in the official reservation list, is prohibited. Third party services at the Villa (i.e. Chef, therapists etc) are also prohibited without prior notice and acceptance by Palazzo Di P Management. Especially for third party services at the Villa premises Villa Management requests assurance for the health protocols that are followed by the service providers. Palazzo guests are No.1 priority!
The pool is cleaned on a daily basis and not only on the arrival day. Maintaining the proper balance of chemicals in the pool is a continual process.
Hot- Tub will be out of service since it's a high risk element of infection spread. However the pool can be used since its size meets the requirements as set by required Health Protocols.
Medicalsupport
Palazzo Di P,cooperated with IASSIS MEDICAL which has also been assigned at the correspondent medical centre for COVID19 incidents. In case you are feeling ill or unwell IASSIS MEDICAL will support your condition and a doctor will be attending you at the villa and discuss your concerns if needed. However, public hospital in Zakynthos will also provide urgent medical services if needed.
Palazzo Di P Team procedures
Frequent hand washing, hand sanitizing and wearing gloves
Hand contact is avoided
Palazzo Di P manager, will take the necessary precautions when welcoming and greeting new guests and will inform of the procedures
Team members feeling unwell will have a sick leave and a test for their condition.
Greece and Zakynthos
Greece has taken all precautions at a very early stage to prevent the spread of the coronavirus. This has resulted in relatively few people in Greece being infected with covid-19 at this time. Zakynthos Island was not significantly hit by Covid19 infections, with a low rate of declared infections since the start of the pandemic.
Palazzo Di P is your own private villa, for safe and stress free holidays, just 10-15 minutes away from the airport, zante town, zante port, beach spots.
Looking forward to welcome you soon,
Palazzo Di P Team,
Nikos & Maria
Let us know what you desire and we will do our best to create a dream holiday just for you…