Beach Life
Palazzo di P Luxury Villa Zakynthos Greece
Zakynthos is a medium-small sized island well known for its wind natural beauty and the surprisingly high number of of stunning –sanded mainly- beaches, which proves the reasons of why it is classified as one of the most beautiful places to be for your summer holidays in Greece. The island is benefited by the emerald crystal sea water that gently laps onto its shore. Sanded calm bays are mainly located east and south-east, suitable for families, whereas at the west part of the island an abundance of high cliffs and secluded natural harbours with a breathtaking backdrop of unspoiled nature and amasing rocky beach spots for the adventure seekers and those who search rest and relaxation.
South & Central East beach spots

Kalamaki
Kalamaki is located at the end of the eastern side of Laganas bay and is separated from Laganas beach by a 5 km stretch of beach designated as part of the National Marine Park. Due to the existence of the National Marine Park and strict legislation the area is pleasantly undeveloped with an amasing lush green area and untouched rock formations. Kalamaki beach is appealing for families with children, seniors and couples due to the golden sanded bay and its quite non-deep waters.
Kalamaki is just 12min drive from Palazzo Di P or Zakynthos Town.

Laganas
Laganas bay is considered as one of the most crowded area on the island either day or night. It's one of the most famous bays of Ionian Sea with 14kilometers long stretch of sand since it hosts one of the last nesting grounds of the endangered species of loggerhead turtle Caretta-Caretta. National Marine Park is extended to multiple parts of Laganas Bay with main scope to protect egg-laying females and hatching turtles. Due to strict legislation concerning the operation of National Marine Park, powered water sports are banned within its waters, however Laganas is considered as the island's active resort, with dozens of pubs, bars and clubs. Furthermore, this natural bay is equipped with sunbeds, umbrellas, toilets, and beach/snack bars and seaside taverns.
Laganas bay, is just 8min drive from Palazzo Di P and 15min drive from Zakynthos Town.

Agios Sostis
Agios Sostis is a relatively small beach and represents a continuity of Laganas beach. This beach is usually selected by families as ideal location for children since the water is shallow and safe. From this point, travelers may visit "Cameo" island offers through a wooden suspension bridge over the water that connects Agios Sostis with this rocky island.
Futhermore, Agios Sostis hosts a number of boat rental companies were travelers rent boats for a visit at Marathonisi island.

Marathonisi (Turtle Island)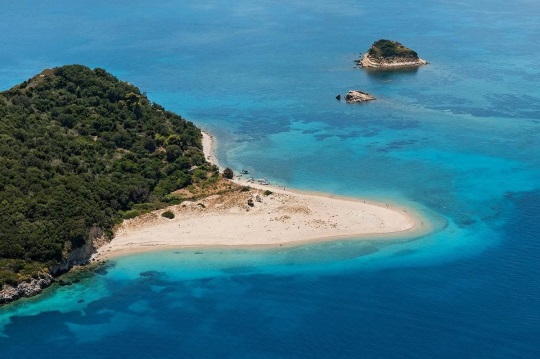 The island of Marathonisi is just few minutes boat travel from the coast of Laganas bay. It is a nesting area of the endangered loggerhead turtle Caretta Caretta. There are two main beaches on Marathonisi, one is a sandy beach where the endangered loggerhead turtles lay their eggs in the soft golden sand and the other beach is pebbly with two caves which travelers love to discover and explore. Marathonisi can be reached from Agios Sostis bay or Keri Lake by hiring a private boat. There are no facilities on this beach, however it is considered as a must place to visit for a tranquil day of swimming and sunbathing at its amasing crystal clear waters.

Dafni
Dafni beach is part of the extended Laganas bay, located at the south-eastern part of the island. Development has been kept to minimum since National Marine Park extends here. Road to Dafni is mainly recommended for the adventurous travelers. There are two levels to the beach due to the protection of turtle nests. Top level features loungers whereas the bottom is purely the beach.

Porto Zoro
Porto Zoro beach offers a unique swimming experience due to its amasing crystalline waters, the impressive rock formations and the unspoiled nature at a peaceful environment. The beach is equipped with sunbeds and umbrellas and the restaurant/beach bar "Azzuro" will provide you with everything you may need during your visit. It is considered as an exotic setting with a cosmopolital vibe and travelers should include within their holiday plan. Porto Zoro beach is located 17 kilometres from the capital of Zakynthos and roughly 25min drive from Palazzo Di P.

Vassilikos
Vassilikos bay is located at the southeast tip of Zakynthos and its approximately 25min drive from Palazzo Di P or Zakynthos Town. Vassilikos considered as one of the most attractive and peaceful beach resorts of the island. Travelers consider it as a peninsula, well known for its unspoiled natural beauty of green vegetation and mountains as well as for an abundance of splendid beaches. The beaches of the area include: Gerakas, Porto Roma, Porto Zoro, Banana and Saint Nikolas. These are all sandy beaches with clean shallow waters, ideal for families and couples. Saint Nikolaos beach is reputed for its water sport activities. Majority of the aforementioned beaches are also nesting grounds for the famous loggerhead turtles Caretta Caretta. Vassilikos is accessible along coastal roads and the drive is breathtaking for the magnificent scenery seen on route. Several restaurants, cafes and tavernas are operating at this magnificent area.
West & North West

Shipwreck Beach (Navagio)
Shipwreck beach is classified as one of the most beautiful and impressive beach spots in the Mediterranean and is the trademark of Zakynthos. This beach is located in the northwestern part of the island which is also called "Navagio beach" which is the Greek translation of the word shipwreck. Its name was derived due to a shipwreck happened in 1980s. This miracle of nature can be approached either by boat from Porto Vromi (local boat transfer or private boat tours) or by car, and admire the beach from a viewing platform. Porto Vromi is a picturesque bay, with soft white sand and crystal clear waters sheltered by limestone cliffs which have made a natural harbour for small ships to moor. Private boats or local boat transfers are available at Porto Vromi for the Blue Caves and the Shipwreck, with the trip taking half an hour. On the way to Navagio Beach, travelers usually will stop at Anafonitria Village. This Village is not renowned as a holiday resort but as a village that offers a selection of traditional shopping options and quaint roadside markets and stores, ranging from handicrafts to local products (honey, olive oil, wine etc).

Porto Vromi
Porto Vromi is a very picturesque small bay with white pebbles, crystal clear waters, surrounded by rocks in a peace and quiet area. Travelers make the most of the area by joining the boat rides or private boat trips to Shipwreck beach (or "Navagio") and the Blue Caves Blue Caves

Porto Limnionas
Porto Limnionas is more of a lagoon than a beach with massive cliffs sheltering it. This lagoon is easily accessible by car and is situated at the West side of the island not far from the small village of Agios Leon. The bay here is stunning, although there is no sand, there is adequate seating and lounging space provided by the local restaurant of the area. The water here is exceptionally clean and is a beautiful blue, great for anyone who wants to dive into the refreshing water of the Ionian Sea. Porto Limnionas lies a few kilometers from Agios Leon Village and is approximately 35min drive from Palazzo Di P.

Porto Roxa
Porto Roxa is a secluded resort with deep cold azure waters in a natural wild fiord. It is considered as an adventurous fiord since travelers dive into the sea from a spring board or from the rocks. Limited facilities such as umbrellas and sunbeds can be found here however it is highly recommended that you should carry your own refreshments and snacks. Finally, there is a restaurant nearby which is very popular due to the quality of its food, beautiful views and customer service.

Marathias
Marathias is a secluded beach with limited facilities which include umbrellas and sunbeds. It's a pebbled beach with crystal waters under lush greenery hills with tall pine trees offering an exotic atmosphere. It is recommended for relaxation and amusement since it's not getting crowded. Travelers combine their day trip to Marathias with an amasing lunch or dinner at Votsalo Tavern with breathtaking views to the sea. The Tavern is located few meters uphill from the beach. Marathias beach is located 26 km from Zakynthos Town, or 30min drive from Palazzo Di P.

Keri Lake
Keri lake is a small picturesque port with a nice bay which splits to golden sand bay and pebble beach with turquoise waters. Keri lake features taverns, café's and boat tours to the Blue Caves and is considered as a relaxing destination for families with children.
North East beach spots

Alykes
Alykes is a beautiful sandy beach with calm crystalline waters. The name of the area comes from the salt pits located behind the village of Alykes. The area is also known for its archeological sites and travelers are attracted to visit. Here, travelers have plenty of options for restaurants, bars and shops.
Alykes is 25min drive from Palazzo Di P or Zakynthos Town. Its' located at the central east side of the island and features a long sandy beach, water sports activities and choices of tavernas and bars.

Alykanas
Alykanas is a sandy beach which is only few minutes' walk from the neighboring beach of Alykes. This beach is well known for its facilities which include water sports centres, restaurants and café-bars along the beach. Additionally, travelers select Alykanas as part of their trip to Askos or to Agios Nikolaos port for boat trips to Shipwreck beach (or "Navagio") or ferries to Kefalonia Island.
Alykanas is located 16 km southeast of Zakynthos town or 30min drive from Palazzo Di P.

Tsilivi
Tsilivi beach is a sandy beach with shallow waters, ideal for families and senior adults, perfect for water-sport lovers too. Tsilivi is among the most organized beaches of the island, with plenty of facilities such as sunbeds, umbrellas, beach bars, restaurants, cafés, water sports etc. Tsilivi has been awarded with the Blue Flag by the Greek National Tourism Organisation on a consistent basis, confirming high safety standards for its visitors. Overall, it is considered as a full-scale holiday resort which features a long and sandy beach, with stunning views east to the mainland and plenty of seafront beach bars and restaurants. Tsilivi bay is located 6km from Zakynthos Town or 20min drive from Palazzo Di P.

Xigia
Xigia beach is located at the North East side of the island. This pebbled beach with golden sand and crystal deep waters, is unique on the island due to the Sulphur content in its waters which flows from a cave next to the beach. It is reputed to be positive for arthritis, aches, skin issues. Exceptional traditional food is served at the tavernas of this area. However there are no facilities on this small beach, such as sun loungers, bar etc. It's mainly preferred by singles and young couples. It is located 20km from Zakynthos Town or 30min drive from Palazzo Di P.